This is a really long and detailed post. I'm sorry. I'm not sorry. These are the posts I love to look back on the most. Also, the pictures are really terrible. I wasn't focused on taking beautiful pictures and kind of just snapped here and there. All photos are iPhone pics. I'm over lugging my huge camera every where we go. 
During the last week of June, Josh and I were painting the garage and drinking some Tiki Tea (which is lemonade mixed with Firefly – ice tea flavored vodka – highly recommended) when I got an idea. Instead of using the 10 days of leave that Josh had taken to work on the house, we should pack our bags and head to South Carolina in the morning. My aunt lives outside of Columbia and we had been planning a visit sometime this summer so why not now? With some quick planning we were on our way the next morning.
About halfway through the 9 hour drive, Josh spilled the news that he had set up a night away to Charleston for just the two of us. We've only left the kids overnight twice, and not at all since having Ruby, so it was a big treat. Especially since we only live together part time right now.
Josh booked a beautiful hotel in a perfect location, I reached out on Facebook to ask for suggestions from friends who live  in the area and a couple of days later we were on our way by 10am. We drove straight to the beach at Isle of Palms where we rented beach chairs, bought a bottle of Firefly (it's produced in Charleston…so we had too) and snuck a little in our styrofoam cups (we had been told by a friend that drinking was allowed on the beach but Google said it was prohibited, although tolerated as long as you behaved like a mature adult) before heading out to relax on the beach.
I've never done this before. My family never vacationed to the beach when I was growing up and I had my first kid just shy of my 20th birthday so beach experiences have never been very relaxing.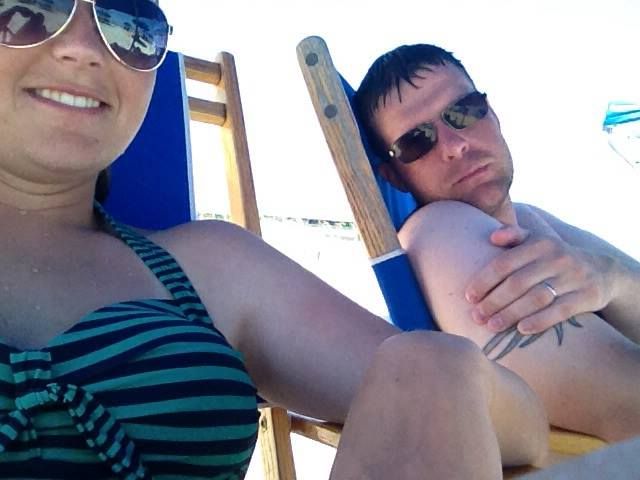 The 3 hours we spent there were magical. Josh and I walked along the edge of the water and talked about the kids everything. We agreed that we most definitely can not settle down in Ohio because we are beach people. I collected some shells for the kids and for a little memento tray I keep in our living room and got way too excited when I saw the fishing pier that Channing Tatum jumped off of in Dear John. I tried to convince Josh that he'd be a legend if he'd jump off it but he said he'd rather live instead.
The water was unbelievable. I've never swam in water south of Virginia Beach so feeling the ocean at 86 degrees was amazing. Actually, I wouldn't say that I've ever swam in the ocean at all. More like wading. But on this day I swam. Josh taught me how to, I don't know, body surf? Is that what you'd call it? And we were in the water for nearly an hour, swimming and catching waves and laughing together. It was a ball. 
When we were tired of the water we lounged for a while longer on the beach before deciding to curb the post buzz sleepiness with another drink at one of the beach bars. We went to this cute rooftop bar called Coconut Joe's. I ordered a house margarita that ended up tasting like weak orange juice and we made plans for the rest of our night. We called it a day and decided to head into Charleston to check into our hotel and enjoy the complimentary happy hour (there was a clear theme to this day).
The hotel was beautiful. We stayed at the Harbourview Inn in the historic district, overlooking the water. If you know Josh at all, you know that he's a bit of a salesman at heart (which is why recruiting is such a perfect fit for him). I like to call him a schmoozer but salesman is a good euphemism. Anyway, he schmoozed the guy at the front desk and we were upgraded to an historic king's suite. It was awesome but too bad we were only staying for one night. We got showers and ready for the night and then headed up to the rooftop (everything in Charleston is rooftop. It's very lovely.) where we had some wine and snacks and decided where to go to dinner.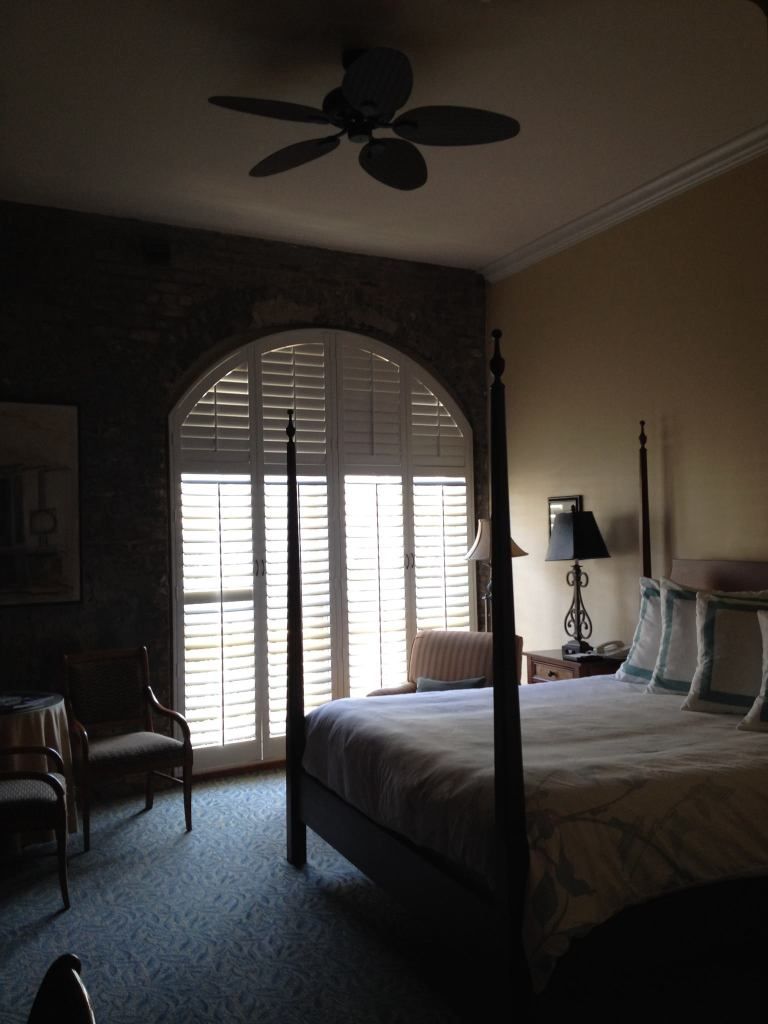 Now. I know if you're reading this and you know Charleston you're going to say, "Husk. Duh." I mean, it was only voted one of the best restaurants in all of America, let alone Charleston, but my husband who has the palette of a child took one look at the menu and declared that it was a little too fussy for him. I won't let him live that one down but in his defense, we probably wouldn't have been able to get a table anyway. We agreed on a place that had come recommended to us by a friend and was coincidentally right around the corner from our hotel.
One of my favorite parts of Charleston is how walkable it is. It's not Houston where you have to drive all across the sprawling city and it's not New York where public transportation is a must. The streets are cobble stone, the houses have these gorgeous courtyards and walkways and there is seemingly no litter or beggars (I don't mean to seem crude but after living in NYC for a year this aspect was nice). It is all just breathtakingly beautiful.
We ended up at Craftsmen, which is like a gastropub specializing in tons of local beers. We were starved and thought everything on the menu looked amazing so we decided to have dinner kind of tapas style, except American tapas style because nothing was portioned small. We tried a few beers and ordered pickled boiled peanuts (omg), mini brats in pretzel buns, poutine, deep fried pulled pork and kimchi spring rolls, and a couple of other things I can't even remember. It was all incredible.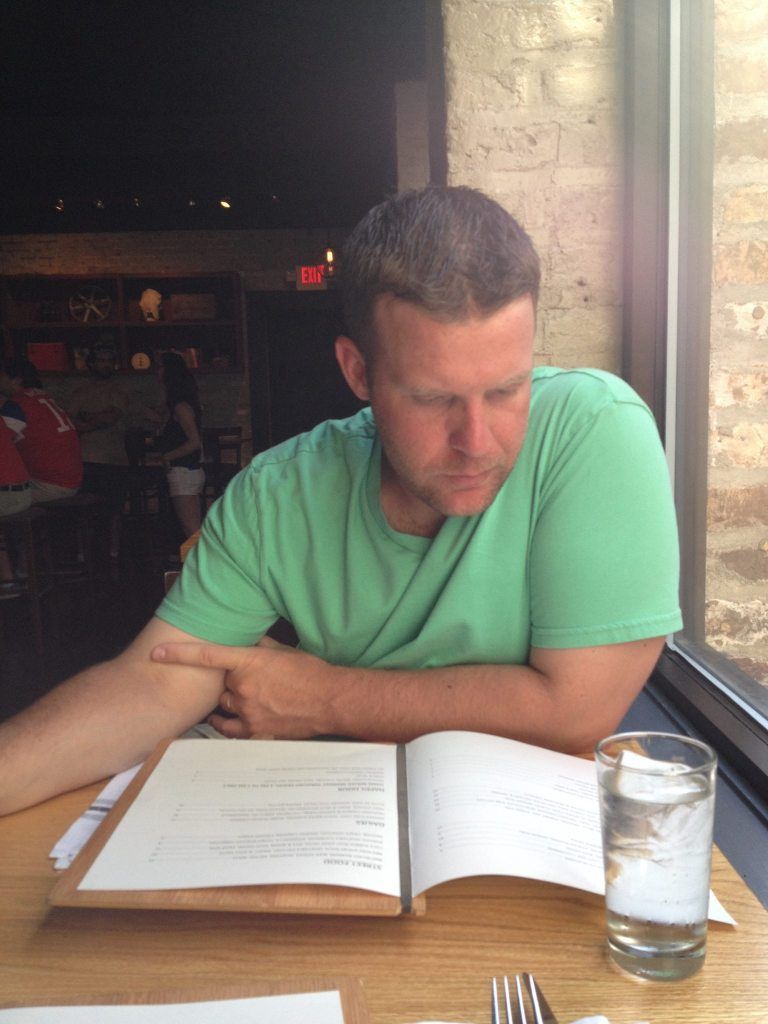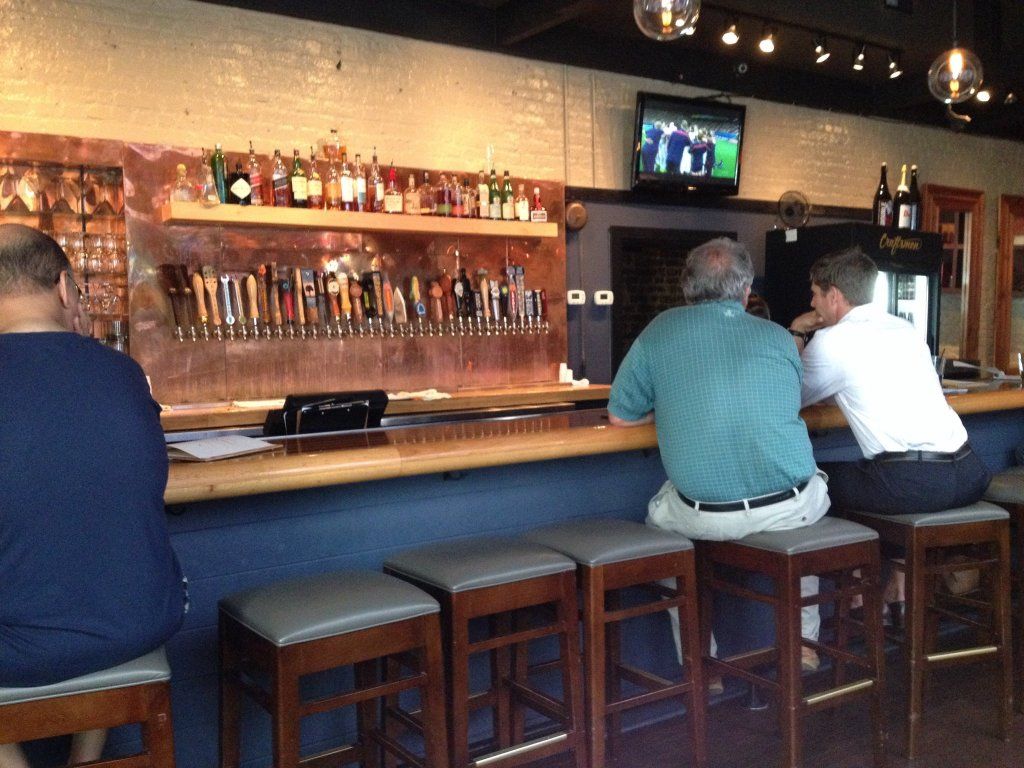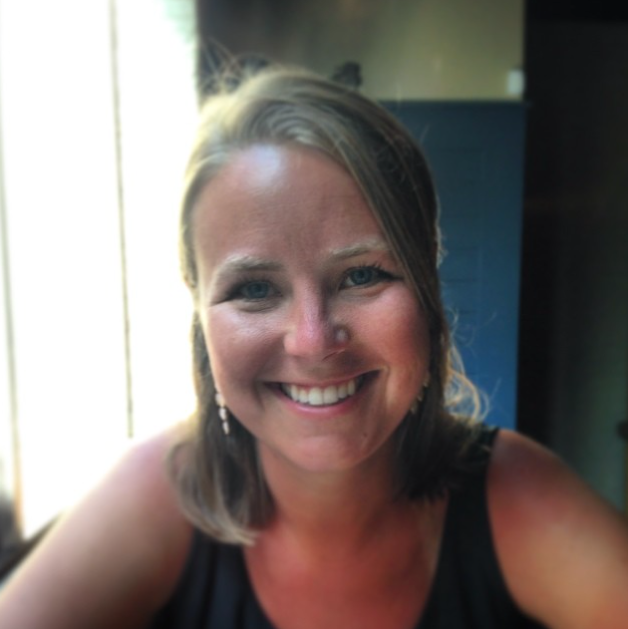 After dinner we considered doing a trolley tour but decided that we should probably just walk. We walked along the harbor and then into the streets of the historic district. It was so quiet. There was no traffic, few pedestrians and seriously nothing but beauty.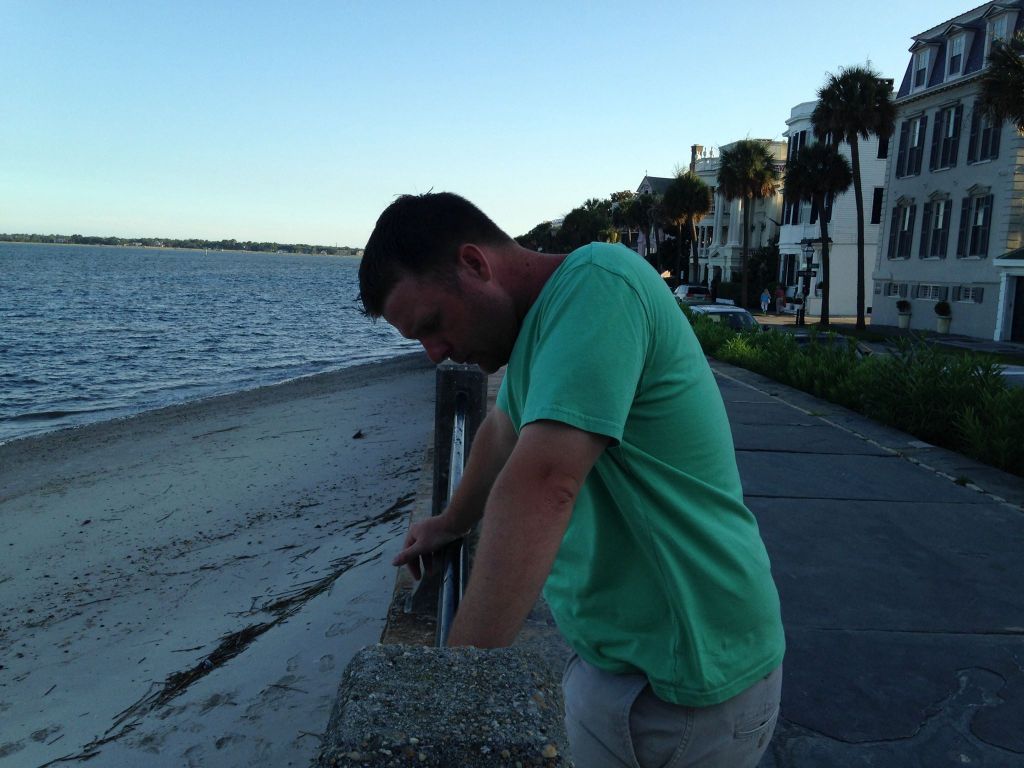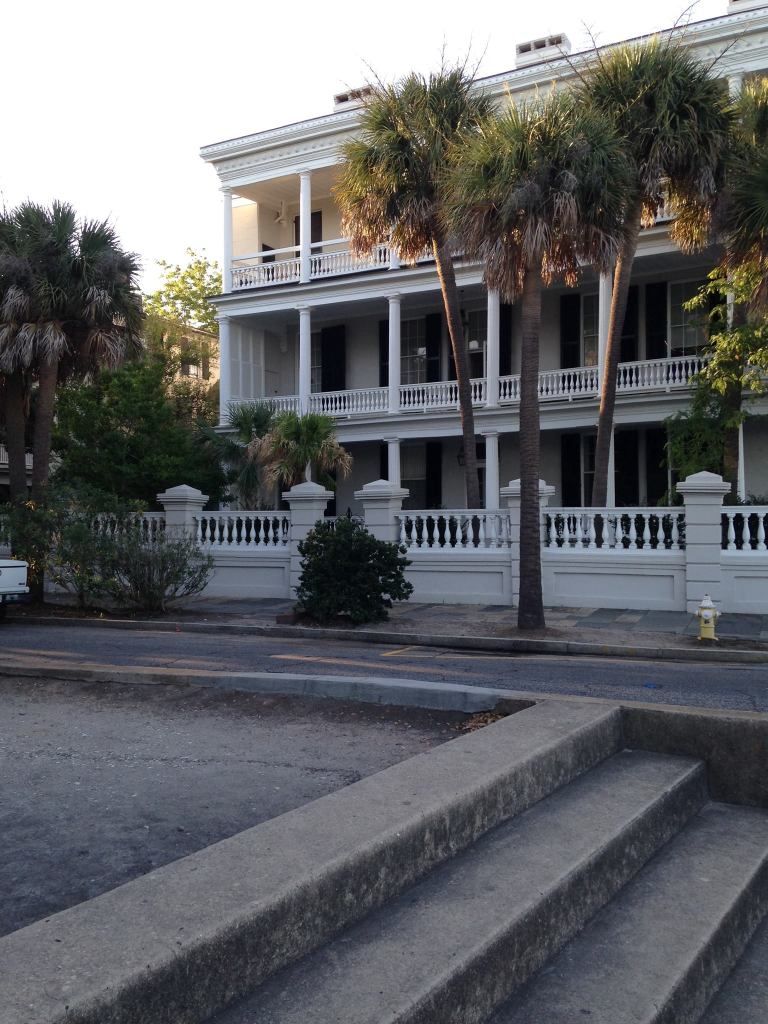 I'm lame and started to get a little sleepy so I made Josh go back to the hotel with me "just for 20 minutes so I can rest." I swear to God the dude stared out the window, tapping on it like a little kid for the entire 20 minutes. He poured us both a shot of Firefly and we were off to the Rooftop Bar for drinks and music.
Getting up to the bar was really cute. You had to walk through an art gallery filled with really quirky pieces before you took a tiny elevator up to the first level. We climbed the stairs to the second level and got a seat in the corner overlooking the water. The view was beautiful but our barmaid was most definitely high and only visited us every 50 minutes. We had a couple of drinks and then drunk ordered hot chips, which have become our new "thing", even though we were still stuffed from dinner. After it got dark and we lost our view and were tired of making fun of all of the people around us (we do that sometimes) we decided to head down the street to a bar that had come recommended by a fellow Coastie.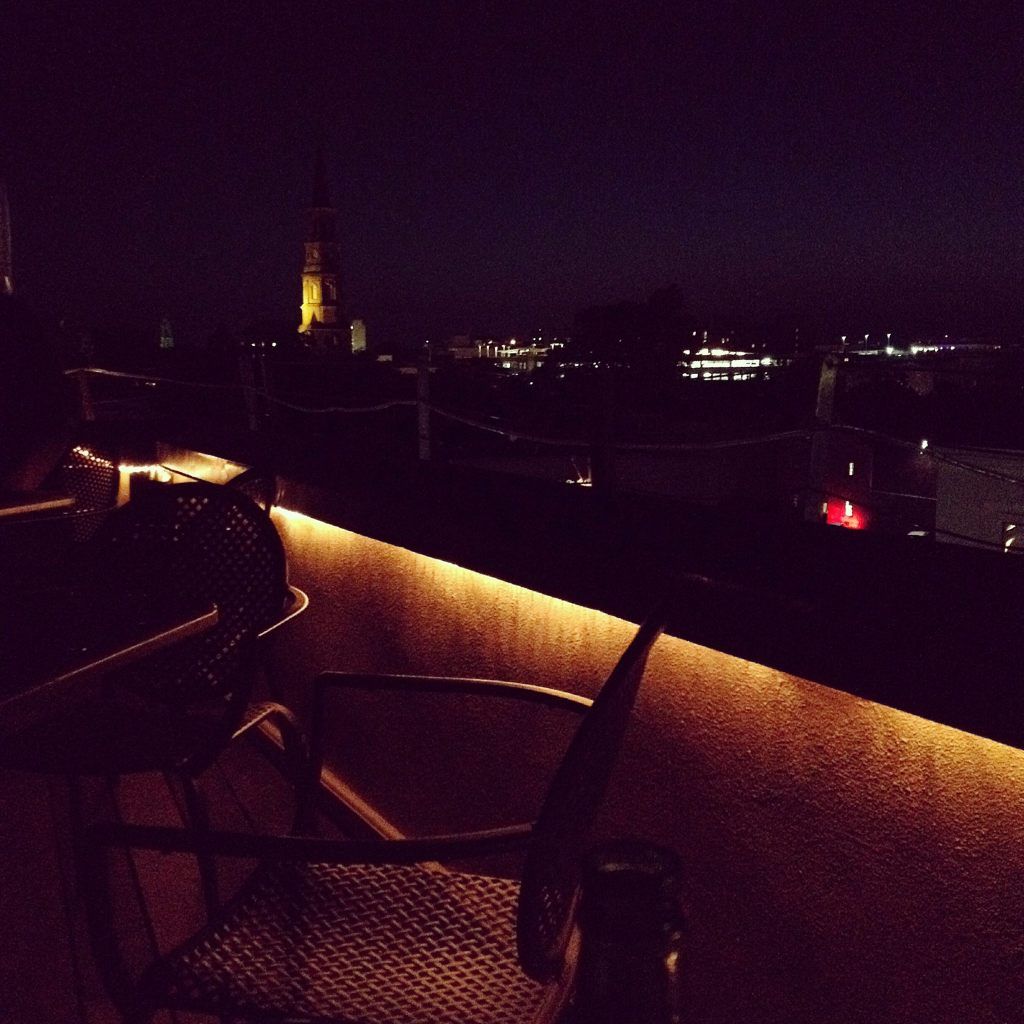 As soon as we walked into The Griffon, we knew we were not cool enough to be there. It was very Irish Punk Rock. Cool, but cooler than us. We got a table and ordered beers and decided to stay because our hotel was only two doors down. All of the walls were covered in dollar bills that had been left with messages and there was one of those old cigarette machines where you pull the knob to dispense the pack, right above our table. I begged Josh to buy a pack of cigarettes (we don't smoke) because I wanted to be a little crazy. Obviously. He said no because he didn't have any cash and if he bought me a pack of cigarettes I'd end up throwing up. Ha! He's always got my back. To be quite honest, I don't really remember a whole lot about our time in The Griffon but I do remember that there was a funny poem written on the wall in the ladies room that I had memorized but unfortunately have now forgotten. I also remember that the group of people we had been making fun of at the Rooftop Bar had now made their way down to The Griffon and we had a few more good chuckles at their expense before I picked a fight with Josh.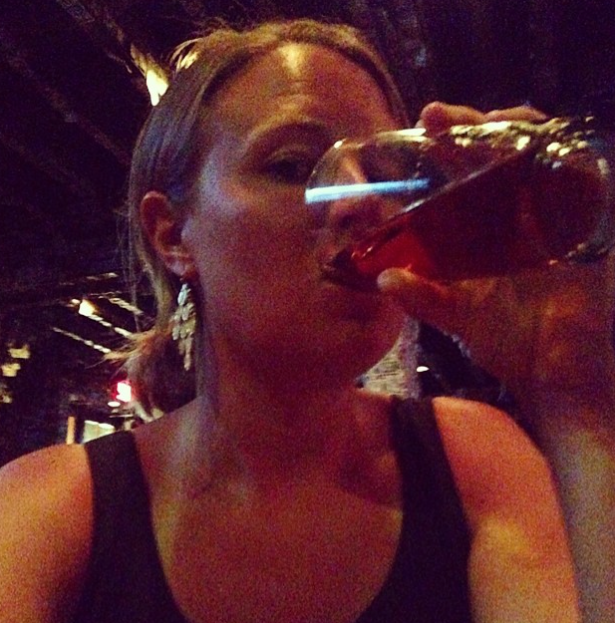 This is so ridiculous, I know, but I shut down a pretty perfect day over a game of darts. I really wanted to play darts and Josh was a bit of a pill, claiming he "doesn't know how." – Uh, you throw the darts at a board and see who gets the closest to the bull's eye. But I blew it up and made Josh out to be a buzzkill (can you say, hypocrite?). Between his refusal to buy me cigarettes and now refusing to throw darts, I was done. I asked him to pay our tab and was asleep in our hotel bed before I even knew it.
I was such a bitch, I know. The next morning the poor guy woke up and immediately apologized for how silly it was to decline a game of darts and I apologized for how silly I was to get so upset over it. We packed our bags and decided to take advantage of the noon time check out and headed to brunch.
We ate at this little place called Toast. I tried to order the most Southern thing I could, so I got shrimp etoufette, fried green tomatoes, grits and a sweet tea to drink. It was incredible. Afterwards, we stopped off at one last, sweet, little boutique where I bought a small Charleston painting and a little thank you gift for my aunt who had kept the kids for us. Then we said goodbye to the Holy City and planned our return/move during the  drive home.
It was absolutely a perfect trip (minus my little meltdown). The beach, the food, the scenery, the drinks, the hotel and just focusing on each other was perfect. We both left in love with Charleston.